Overview
16S/18S/ITS amplicon metagenomic sequencing is frequently used to identify and differentiate microbial species. Short (<500 bp) hypervariable regions of conserved genes or intergenic regions, such as 16S of bacteria and archaea or 18S/ITS of fungi, are amplified by PCR and analyzed using next generation sequencing (NGS) technology. The resulting sequences are compared against microbial databases. Applications range from identifying a single species in pure culture and characterizing the microbiota of animals or plants, to comparing species diversity and population structure from various environmental sources or geographic regions. Our specialists can advise you on the appropriate analysis for your project.
Service Specifications
Applications
Species identification
Gut microbial environment research
Microbiota diversity
Difference of species composition
Advantages
Highly experienced: We have sequenced hundreds of thousands of samples, resulting in nearly 30 published articles.
Outstanding service: We provide high-quality sequencing (with Q30 score ≥ 75%), an efficient standard workflow, fast turnaround time, and cost-effective bioinformatics analysis.
Effective methodology: Our method features high amplification efficiency of sample DNA (> 95%).
Comprehensive analysis: We provide expert bioinformatics analysis using the latest sequence databases and software, generating high-quality, publication-ready data.
Sample Requirements
| | | | |
| --- | --- | --- | --- |
| Sample Type | Amount | Volume | Purity |
| Genomic DNA | ≥ 200ng | ≥ 12μL | OD260/280=1.8-2.0 |
Primer List of Amplicons
Types
Region
Fragment Length
Primer
Primer sequences(5'- 3')
Bacterial 16S
V4
300 bp
515F
GTGCCAGCMGCCGCGGTAA
806R
GGACTACHVGGGTWTCTAAT
V3-V4
470 bp
341F
CCTAYGGGRBGCASCAG
806R
GGACTACNNGGGTATCTAAT
V4-V5
450 bp
515F
GTGCCAGCMGCCGCGGTAA
907R
CCGTCAATTCCTTTGAGTTT
V5-V7 (for endophytic)
300-400 bp
799F
AACMGGATTAGATACCCKG
1193R
ACGTCATCCCCACCTTCC
Archaeal 16S
V4-V5
400-500 bp
Arch519F
CAGCCGCCGCGGTAA
Arch915R
GTGCTCCCCCGCCAATTCCT
Archaeal 1106F
V8
300bp
1106F
TTWAGTCAGGCAACGAGC
1378R
TGTGCAAGGAGCAGGGAC
Fungal 18S
V4
350 bp
528F
GCGGTAATTCCAGCTCCAA
706R
AATCCRAGAATTTCACCTCT
V9
200 bp
1380F
CCCTGCCHTTTGTACACAC
1510R
CCTTCYGCAGGTTCACCTAC
Fungal ITS*
ITS1
200-400 bp
ITS5-1737F
GGAAGTAAAAGTCGTAACAAGG
ITS2-2043R
GCTGCGTTCTTCATCGATGC
ITS2
380 bp
ITS3-2024F
GCATCGATGAAGAACGCAGC
ITS4-2409R
TCCTCCGCTTATTGATATGC
ITS1-1F (for endophytic)
200-400 bp
ITS1-1F-F
CTTGGTCATTTAGAGGAAGTAA
ITS1-1F-R
GCTGCGTTCTTCATCGATGC
Sequencing Parameter and Analysis Contents
Platform Type
Illumina NovaSeq 6000
Read Length
Paired-end 250 bp
Recommended Sequencing Depth
30K/50K/100K raw reads
Standard Data Analysis

Data quality control
OTUs cluster and phylogenetic relationship construction
Species annotation
Alpha diversity analysis
Beta diversity analysis
Ternaryplot
NMDS analysis
LefSE analysis
Metastats analysis
Species T-test analysis
MRPP, Anosim, Adonis, Amova analysis
Comparative analysis of alpha diversity indices
Comparative analysis of beta diversity indices
Note: For detailed information, please refer to the Service Specifications and contact us for customized requests.
Sampling
DNA from 49 healthy people, DNA from 50 people who has stable coronary artery disease (CHD) and 100 people who has ST segment elevation myocardial infarction (STEMI).
Sequencing Strategy:
Illumina platform, paired-end 250 bp
Conclusions:
Intestinal-associated bacteria is enriched in systemic circulation. Because of the highest translocation products of intestinal bacteria in STEMI patients.
Intestinal bacterial translocation products are associated with inflammation and left ventricular function.
Intestinal flora translocation promotes cardiovascular events after STEMI.
References
Zhou X, Li J, Guo J, et al. Gut-dependent microbial translocation induces inflammation and cardiovascular events after ST-elevation myocardial infarction[J]. Microbiome, 2018, 6(1):66.
Plant growth and oil contamination alter the diversity and composition of bacterial communities in agricultural soils across China
Background:
The dynamics of microbial diversity in response to biotic and abiotic disturbances provide a sensitive indicator for evaluating the potential stability and degradation of soils in agro‐ecosystems. To determine the effect on soil bacterial communities of disturbances by plant growth (Robinia pseudoacacia) and oil contamination, we sequenced 16S rRNA genes using MiSeq technology. Abiotic and biotic disturbances, including treating the soils with sterile water, crude oil, and/or an invasive plant, altered the bacterial community structure in the soils, increased bacterial richness, and reduced bacterial dispersion.
Sampling
DNA extracted from twenty‐one soil samples collected from corn fields in 19 provinces of China.
Sequencing Strategy
Illumina platform, paired-end 250bp
Conclusions:
The microbial taxa exhibited differential responses to the plant growth and oil contamination, and the assembly of the core microbiome was changed. Moreover, the bacterial communities in the soils from warmer regions were more sensitive to the environmental changes.

The chemodiversity of paddy soil dissolved organic matter correlates with microbial community at continental scales
Background:
Paddy soil dissolved organic matter (DOM) represents a major hotspot for soil biogeochemistry, yet we know little about its chemodiversity let alone the microbial community that shapes it. Here, we leveraged ultrahigh-resolution mass spectrometry, amplicon, and metagenomic sequencing to characterize the molecular distribution of DOM and the taxonomic and functional microbial diversity in paddy soils across China. We hypothesized that variances in microbial community significantly associate with changes in soil DOM molecular composition.
Sampling
DNA extracted from soil samples that were collected from 88 flooded paddy sites across four typical Chinese rice-growing regions in 2014 and 2015.
Sequencing Strategy:
Illumina platform, paired-end 250 bp
Conclusions:
Our study demonstrates the continental-scale distribution of DOM is significantly correlated with the taxonomic profile and metabolic potential of the rice paddy microbiome. Abiotic factors that have a distinct effect on community structure can also influence the chemodiversity of DOM and vice versa.

---
Results of OTU Cluster & Annotation Analysis
---
Species Abundance Heatmap
---
Taxonomy Tree for A Single Sample
---
Rarefaction & Rank Abundance Curves by Individual Sample
---
Principal Component Analysis (PCA) based in OTUs
---
UPGMA Cluster Tree based on Weighted Unifrac Distance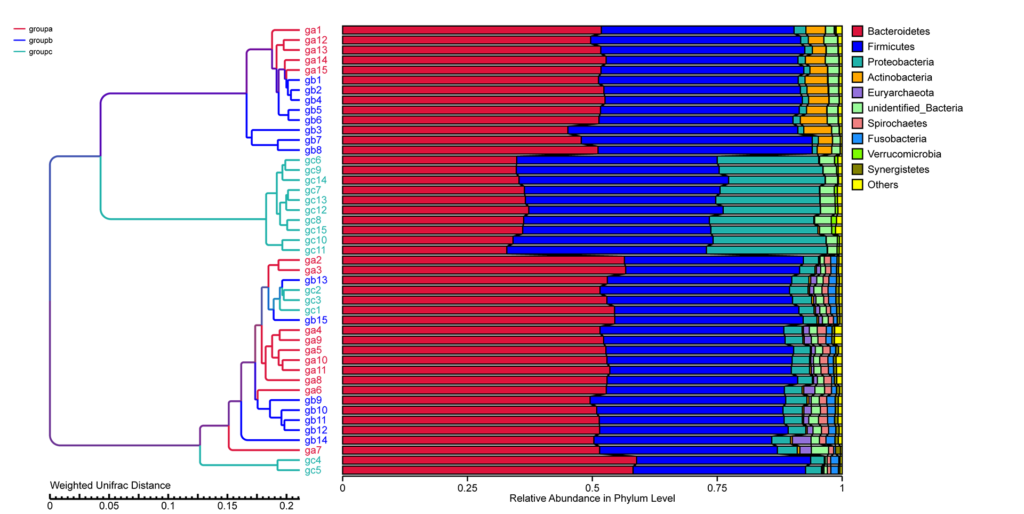 ---
Cladogram of LEfSe Analysis
---
Relative Abundance on Phylum